Connections Card Game ™
Updated 2016-June-16 (Stacks Variation)
The Connections Card Game is all about finding or making logical connections between words. This card game can be played on any flat surface like your kitchen or classroom table - even the floor.
There are 124 cards, each card having a point value and four unrelated words, one per edge, for a total of 496 English words.
Play the Game like Dominoes
Connections are made by logically matching a word on the edge of one card with a word on the edge of any other card.

Connections must make sense! If someone has to tell a story to explain a connection, it probably isn't one.
Simple as that is, there are many ways to play and keep score.
Quick Links to Apps
Print random grids for [Bingo, Fours/Fives, Tic-Tac-Toe]
Use the The Arbitrator.
Play Ambiguity.
NOW OVER A DOZEN WAYS (17) TO PLAY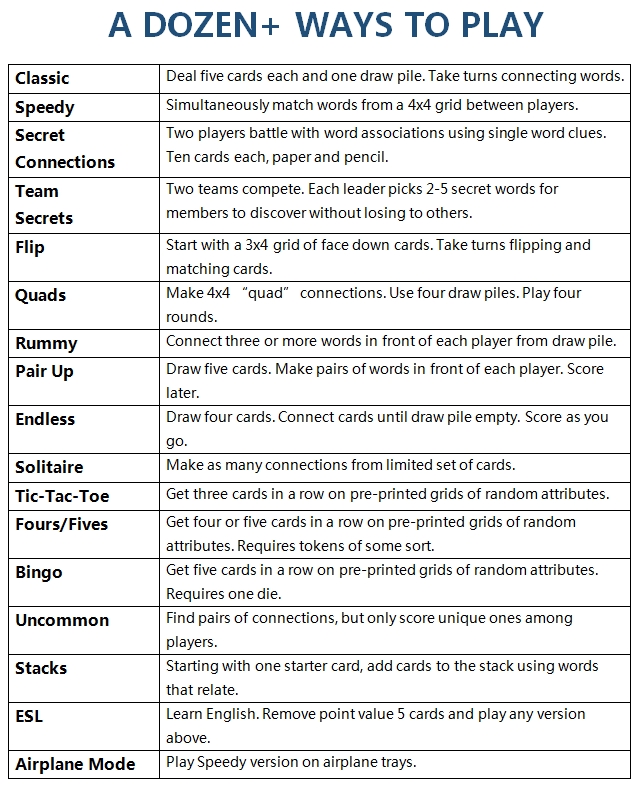 Reveal All Rules Click
below to reveal individual rules.
Objective
: be the person with the most points.
Shuffle the cards and place the pile face down on your table. Draw one starter card (suggest 1 point) and it place face up in centre.
Each player gets five or six cards and then takes turns making connections on the table. If a player cannot make a connection within one minute, they draw a card and the turn goes to next player.
The game ends when one player has connected all of their cards. That player gets the points of the remaining players' cards. Continue with another round, either using the existing grid or start fresh.
Final high score after four or five rounds decides the winner.
Contesting a Connection:
If your attempted connection is not obvious, you may need to prove your connection. We guarantee that friendly debates will occur while playing this game. In fact, it may get heated.
It's democratic with "thumbs up" or "thumbs down" or use the The Arbitrator web app.
Arbitrate or decide in advance how challenges are handled. This makes for stimulating and interesting discussions, engaging people through debate. Be prepared to contest and debate connections. People will try to make connections that make sense only to themselves, but perhaps to no one else. If a person has to make up a story to explain it, chances are, it's not a valid connection. Anyone can challenge a connection. Majority rules.
If the connection is invalid, the person removes the card and draws another one from the draw pile. The player can then attempt to play that card within 10 seconds.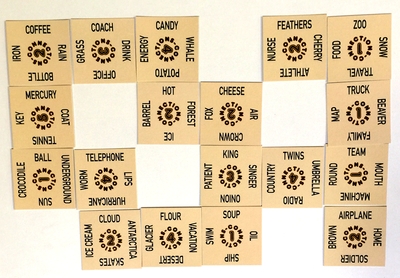 SECRET CONNECTIONS (TWO PLAYERS)
UNCONNECTED (UNCOMMON CONNECTIONS)
ESL (ENGLISH AS A SECOND LANGUAGE)
---
SEVERAL WAYS TO SCORE
You can keep score in a variety of ways:
Score cards as played
Score at the end of a round by having winner take all players' unplayed cards
Use the scores for both the card played and its connection(s) (two edges connect)
Double scores if three cards connected (four edges connect)
Triple scores if four cards connected (six edges connect)
Quadruple scores if fives cards connected (fill a hole)
Note: when connecting your card to two or more cards, all edges must match.
POINT VALUES
Cards have been given point values based on how many connections each word on the same card has:
1 point: more than a dozen connections
2 points: around a dozen connections
3 points: about ten connections
4 points: half a dozen or so connections
5 points: only four or five obvious connections.
---
MAKING LEGAL CONNECTIONS
THAT MAKE SENSE
When connecting cards, the matching words must be related in a very obvious or immediate manner. For example, APPLE can match RED, YELLOW, SEED, ROUND, FRUIT, PLANT, JUICE and TREE but does not match VEGETABLE, KITCHEN, PURPLE or FLY. Ask yourself if they match directly or have a common category (like PLUM could match BANANA as both are fruits).
Direct connections: a PLANT is GREEN, a BOAT is on WATER, a SPIDER is an animal, WOOD can FLOAT.
Indirect connections: a BOWL and PEAS
Common category: a BANANA is like a PEACH because both are plants, RAT and BEAVER are both mammals, both have FUR, both are rodents.
Compound words and phrases: BAT CAVE, EAR DRUM, AIR MAN, ROCK HARD, SUN FLOWER.
BOWL and CUP are both containers but BOWL and PEAS is not a direct connection
Calling it stretch with indirect connections.
You shouldn't have to make up a story to explain a connection.
We eat a COW as FOOD (No, we eat meat not the cow.)
COW is better connected to ANIMAL or FARM.
FOOD is better connected to MEAT or BREAD.
I bought SHRIMP for a DOLLAR (Possible, but not the intended connection for either.)
SHRIMP is better connected to PINK or OCEAN.
DOLLAR is better connected to USA or MONEY.
We went on VACATION and saw a GLACIER (Possible, but not a direct connection.)
BEACH would be the more common connection to VACATION.
VACATION is better connected to TRAVEL.
GLACIER is better connected to ICE or FROZEN.
HAIR is on the head of the QUEEN (True, but there are better connections.)
HAIR is better connected to HEAD or BODY.
QUEEN is better connected to ROYALTY or FEMALE.
WOULD YOU ALLOW THESE CONNECTIONS?
CAMEL matches OSTRICH
How?: both have long necks, both are found in Africa
EXCLUSION RULES
Cannot match a specific animal to any other animal ie both are animals is not allowed
"Both are plants" is not allowed. (Both are round fruits is OK.)
"Both are animals" is not allowed. (Both are aquatic is OK.)
Movie or Book about [anything] is not allowed.
Must use attributes or sub categories like fur or mammal or rodent.

Valid Connections Arbitration App
BONUSES
If someone can legally connect two or more edges to adjacent cards, the scores can be doubled or an extra card collected.
---
VARIATIONS
Decide in advance upon any of these game play and scoring options:
| | |
| --- | --- |
| [ ] | Initial draw of five, six, seven or even 10 cards |
| [ ] | Use own card or top card of draw pile |
| [ ] | Take turns or play all at once |
| [ ] | Number of rounds to play |
| [ ] | Maximum cards in hand |
| [ ] | Minimum cards in hand |
| [ ] | Allow only direct connections like PEAS and VEGETABLE |
| [ ] | Allow "BOTH" connections like HONEY and GLUE, eg "BOTH are STICKY" |
| [ ] | Allow indirect connections like BOWL and PEAS |
| [ ] | Allow compound words like BREAD BOX |
| [ ] | Allowed to exchange cards from the draw pile |
| [ ] | Allowed to swap cards with another player |
| [ ] | Use entire or partial deck to end a round |
| [ ] | Play two or more cards per turn |
| [ ] | Match two or more words: extra turn or extra card or extra points |
| [ ] | Limit each player's time to 30 or 60 seconds |
| [ ] | Playing multiple connections in one turn allowed or not allowed |
| [ ] | Scoring per play or end of round with losers' points. |
| [ ] | Stacking is allowed if ALL connections match and point value HIGHER. |
ARBITRATION AND HANDLING DISPUTES
Connections just have to make simple sense. If the player has to explain the connection or make up a story, it probably is not a valid connection. Poll the players for an opinion and indicate acceptance or rejection with "thumbs up" or "thumbs down". If there is an even number of players, the player with the questionable connection does not participate in the vote.
Use our web app to arbitrate contested connections on our website. Enter both words and the app will indicate the validity of the connection.
CREATIVE THINKING
Card Connections encourages players, especially kids, to express themselves creatively, letting them think about the concepts among their connections. It's interesting to see how people think.
CONTRIBUTE YOUR RULES You may find a way that suits your family or group. Name and share your rules - we will publish them.