THINK : RELATE : CONNECT

CLICK FOR NEWS FLASHES - AUGUST 6

A uniquely engaging word game. For home, school, game night, ESL, team-building.
Tap [Reviews] below for latest reviews:
K.A. (Dec 17, 2018) My son's tutor played the game with him tonight and we just had to get one for home (plus a couple for gifts)...both kids, ages 8.5 and 12, thought it was fun. Love the concept! Hope you are prepared for this to explode in popularity!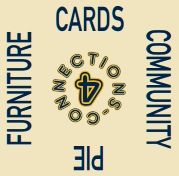 English Words Edition
496 words on 124 cards that stimulate conceptual connections using word association.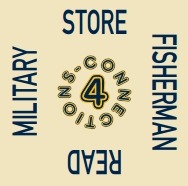 Where to Buy
We offer worldwide delivery, local GTA pickup, online stores, Interac and Paypal options.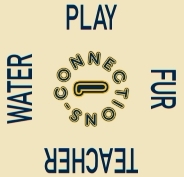 Playing Connections
Simple rules with variations. It's not just about making connections between words - it's more about how people interact with each other when the fun begins.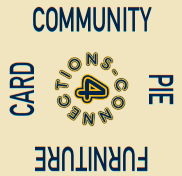 Community
We want to build a community around the game. Connect with our Facebook group. Upload your favorite connections. Explain why they make sense!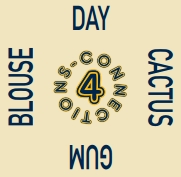 Challenges
Every day we will present a Daily Challenge. You can also play Ambiguity online.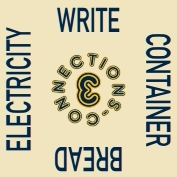 Reviews
What are people are saying about the Connections Card Game ™?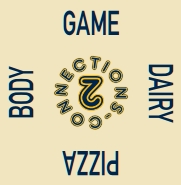 Apps
Our free apps ...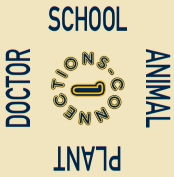 Educational
At Home and School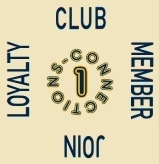 Connections Club
With your game purchase, you automatically become a member of our special loyalty club.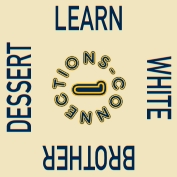 ESL
Use Connection Cards with your English as a Second Language group.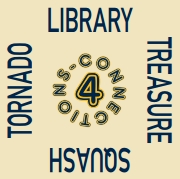 Expansion Packs
Looking for more connections?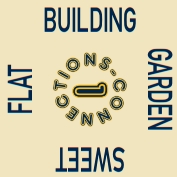 Team Building
A game that will bring out both the competitiveness and cooperativeness of your team.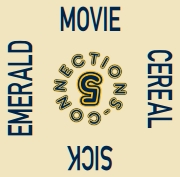 Videos
Click here:
How to Play Connections 150
Watch videos of games in action
Connections YouTube Channel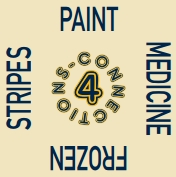 Gallery
Games in action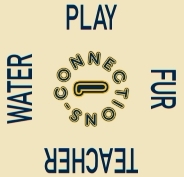 More Games
www.Wordgames.me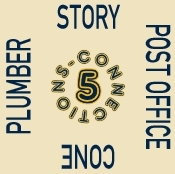 Creative Thinking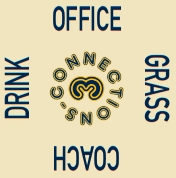 Custom and Magnetic Versions
Have an idea for a custom version?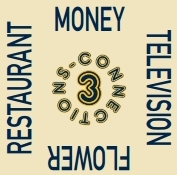 Fundraising
Are you looking for a profitable fundraising opportunity for your school and charitable organization?

Canada 150 Edition
Happy Birthday Canada in 2017. 150 cards, 600 bilingual words all related to Canada. They can be used as an expansion set. [Learn More].
---
Is it a Crossword? Is it like Scrabble ™? Is it Dominoes?
It'll blow your mind!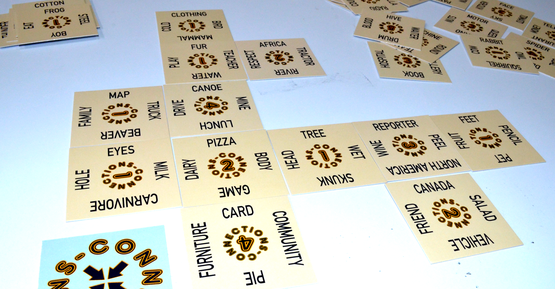 The Connections Card Game is all of the above.
---
Fun for the Whole Family.
And your friends too!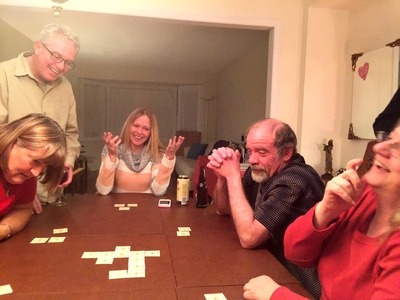 If you want a table top game that will cause a positive reaction with your family, this is it. Even the most introverted members will fight for their connections through all the screaming and laughter.
---
Expand your thinking.
Provocatively!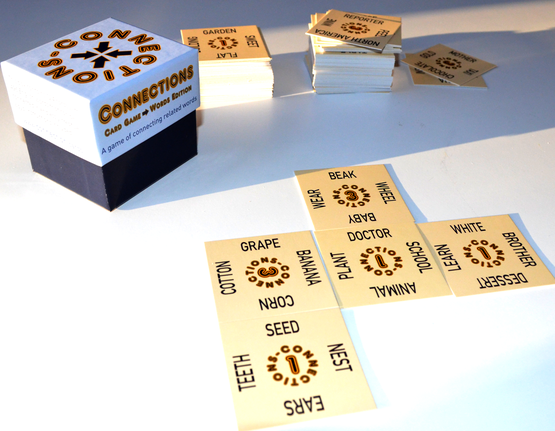 This game is guaranteed to cause friendly debate. Not all connections will make sense and everyone will enjoy participating in accepting or rejecting connections.
Adjectives that describe the game.
Heady words!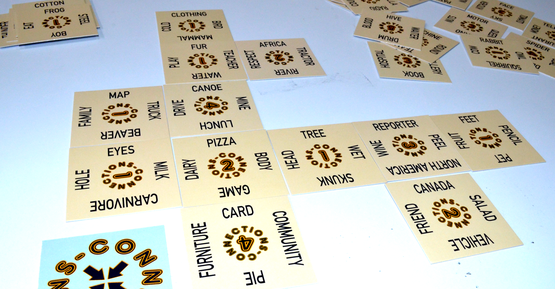 Provocative. Fun. Insane. Engaging. Imaginative. Challenging. Stimulating. Fast-Paced. Hilarious. Educational. Thought-Provoking. Controversial. Enjoyable. Creative. Forward-Thinking. Thoughtful. Wordy. Conversant.
---